What are the Silicone Wax Figures?
A wax figure is a depiction created using a wax substance to look lifelike. Wax is an excellent medium for models because it is easily cut and reshaped at room temperature.
But currently, we have found a better material that is silicone gel, which can make the life span of statues longer and not easy to deform, because silicone is soft that makes the statue have a soft touch feeling just like a real person, and silicone with our customized pigments can make the skin tone more vivid and long-lasting. The process to make Silicone Wax figure

Measuring
Before the creation of the statue, sculptors get to know the person first, they look at videos, photographs, paintings, and they know the character's story and habits. When do measurements, over 200 photographs of the person taken. They record the eye color, hair, skin, beauty marks, and how the star behaves.
Sculptors will refer to as many of existing photos and videos if the subject is a historical figure or not available to take measurements.
Creating the mold
Sculptors will create a life-size clay mold for the person first, after customer approval of the clay model. We turn the clay model to a silicone mold, then use the mold to do a life-size silicone statue.
Finishing process
Eyes and teeth are installed to the silicone statue. Afterward, a colorist will paint the silicone statue, then apply around twenty layers of pigments on the figure to ensure the statue have natural skin tone and texture. Then hair staffs will do hair transplant for hairs, eyebrows, eyelashes, mustache, chest hair etc., and hairdresser have haircut just like real person. Lastly, the sculpture goes undergoes a thorough critiquing process.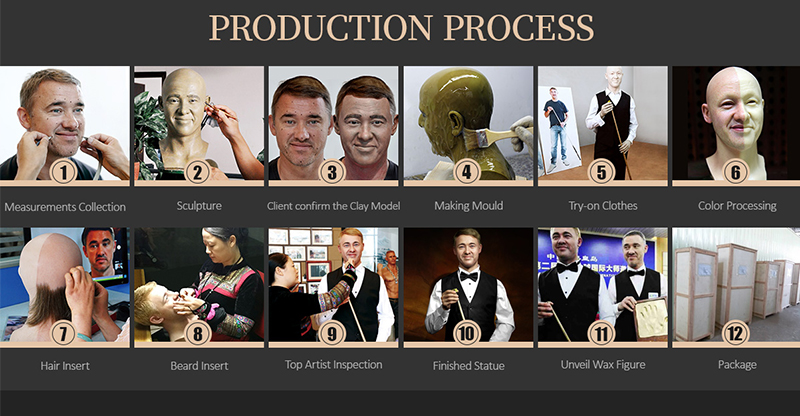 Why DXDF is a professional wax figures maker in the world
DXDF is one of the earliest wax figure makers in China. The company has over 22 years of experience in the field. Besides creating and designing wax figures, the company has built its own wax museum brand "Wei Mu Kai La" and constructed 7 wax museums which can be found in Guangzhou, Gulangyu, Jinan, Changsha, Lijiang, Tibet and Dalian city, the wax museum brand "Wei Mu Kai LA" has got more than 100 Chinese celebrities and outstanding people's authorized to create and display their life-size wax figures. Have the experience of wax figure manufacturer and wax museum operator makes the Zhongshan Grand Orient Wax Art Co., Ltd has become the most professional and trustworthy partner in the wax figure filed. Having more than 12 sculptors make Grand Orient Wax Figure achieves team work, not personal work to make sure every sculpture's super similarity. If you are looking for real life wax figures. Get in touch with us for your wax figure project!